To kick off our awesome birthday week, not only do we have some incredible deals and discounts happening in our shop right now, but I am so so excited to announce this awesome giveaway from my sweet friend Danielle, the genius behind Girl and Parrot. I have been watching Danielle begin to build her painting/art shop these past few weeks, and you probably know I'm her biggest fan. I have a portrait done by her of my family, including my sweet boys, and it is one of my most cherished possessions.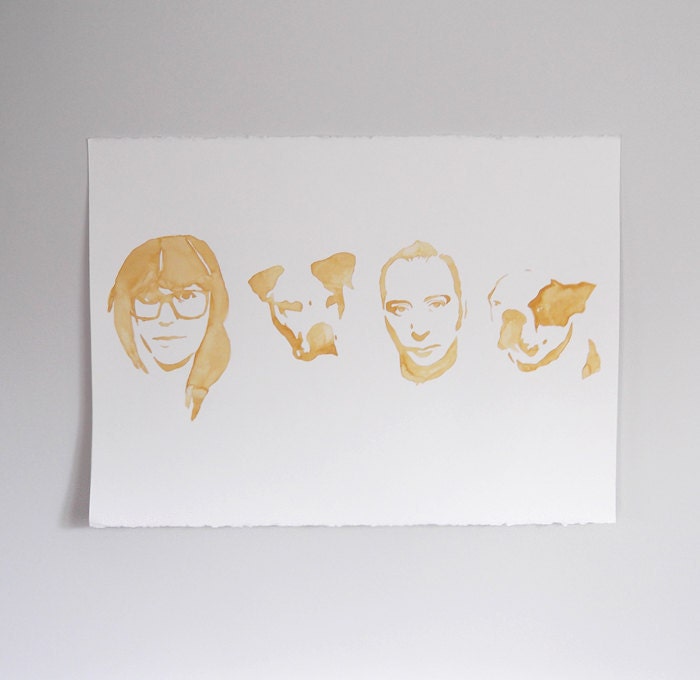 Jill of Lune Vintage recently tweeted that Danielle's paintings are like coffee stains left on a napkin, and I think that's a great description. They are pretty unique and I am stoked to able to offer a special giveaway like this!
So, for this giveaway you can win a custom, one of a kind pet (or animal of your choice if you don't have a pet, or wish you had a pet tiger, or want a custom portrait of your spirit animal.) portrait on 9 x12 watercolor paper in your choice of color (or colors...I think an ombre portrait would be really pretty!) Here are the rules:
1. Follow Danielles blog and leave me a comment on this post saying you follow her blog.
2. Visit Girl and Parrot shop and leave a little heart on your favorite listing and leave a separate comment telling me your favorite listing in her shop.
3. Tweet "I want to win a custom pet portrait from Girl and Parrot on the @tumbleweedsshop blog www.talesofatumbleweed.com"
3. Like the Girl and Parrot facebook page and leave a separate comment below.
4. Pin a Girl and Parrot painting to a pin board on Pinterest and leave me a link to the pin in the comments below.
5. Extra entry if comment telling me who or what you want painted and what color you want your portrait in. Let's get creative here people!
This giveaway is open until Thursday night at midnight! I will announce the winner on Friday morning! DON'T FORGET TO LEAVE ME AN EMAIL ADDRESS THAT I CAN GET A HOLD OF YOU AT!
*And also, as an added bonus, I will pick a runner up winner who comes up with the most creative color/portrait combo. Get out your crayon box and dust off your design books. Crabapple Reds and key lime greens will win you a very special prize from the Girl and Parrot shop!*
Good luck, yall! And remember, the more entries to make, the better chance you have to win! Make it count!
xo,
Beca